Ah, 2020. It was the start of a new decade. A year that held so much promise and raised all our expectations of what was to come… and then it actually happened.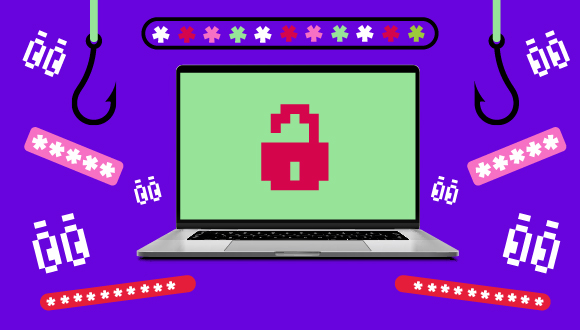 If 2020 taught us anything, it's that anything can happen (murder hornets??), especially when we least expect it. That's true for cyber security too — and it's why it's so important to make staying cyber secure a goal for the year ahead. Here are some resolutions you can make to help you get there:
Don't fall for phishing
Phishing campaigns have seen a big surge in 2020, but that's no reason to fall for them in the new year. Avoid falling for email or text scams by learning what to look out for if you're ever sent one.
Things like urgent or threatening language, requests for sensitive information like login or financial info, unexpected requests to update your account or unprofessional email layout and design are all signs of a potential phishing message. Get familiar with the signs of phishing and keep handy resources around to help you spot a scam in the year ahead.
Good files only ✌️
When times are boring, an unexpected email attachment or a new app can be the most exciting part of your day. Maybe that's part of the reason malware and ransomware have been so effective this past year.
For 2021, make a commitment to resist the lure of downloading unfamiliar files, installing sketchy apps or pirating illegal software. And just in case, you should also install anti-virus software on your devices and back up your files regularly to protect you from any attacks that fall through the cracks.
Keep yourself updated
It was hard to stay up to date this year. It seemed like there was a big news story every hour, and it was tougher than usual to keep in touch with the latest in our friends' lives.
Keeping our devices up to date didn't get any harder though – we might have just forgotten to get around to it, due to, you know, the entire world seeming like it was on fire the whole year. Next year, set your software and system updates to automatic so you're always running with the latest, most secure version of things. That way, a global pandemic, natural disaster or generally bad day won't have your devices falling behind.
Keep your password game strong
"New year, new me" is so cliché — "new year, new password" is where it's at.
Make updating all your passwords a top priority going into 2021, making sure you use a unique password for each and every account or device. These passwords should be at least 12 characters and use a mix of upper- and lower-case letters, numbers and symbols. Better yet, you should use a passphrase, which is a combination of four or more words totaling at least 15 characters.
And since that's a lot of passwords to manage, set yourself up for success by downloading a password manager.
Conclusion
We'll be real with you: it was a big year for cyber threats. But hindsight is 20/20 (or 2020, in this case…), and now that you know all these cyber security tips, you can feel confident you're your odds of staying cyber secure in 2021 will be that much higher. Choose a digital resolution that will keep you and your devices secure for the year ahead!